pornography
February 4th, 2008 (06:27 am)
current mood: dirty
I'd like to offer a bit of sage advice. If you ever find yourself naked in a room with Edison Chen, search for cameras and confiscate all cell phones or you may find yourself in the midst of the biggest celebrity scandal in the history of Hong Kong. Eddie, it seems, liked to keep photographic evidence of all of his "conquests." Wouldn't you know, someone got a hold of the photos and posted them on the internet. The women involved should visit Shu Qi's house for some good guidance about salvaging their careers. No, they'll never think of you the same way again, but it can be done! Don't let this punk's carelessness destroy you. And no, I'm not posting any links. They're really easy to find if you get curious.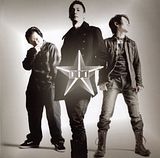 Hey,
brainwhisper, I hope you've had a chance to watch that Oblivion Dust DVD, cause Kaz's clothes are totally falling off. And he's not even the most naked one. I had a chance to peruse the CD booklet too over the weekend and I think you might have overlooked something :P Click over here ------->

The Patriots lost?? Bwahahahahahahahaha! Why am I so gleeful? Oh right, I hate *ucking football.

On this day in Buck-Tick history in 1998, the band embarked on its Sextream tour. They would start in Saitama and go on to play 33 shows. I wonder what the fans must have thought when they saw those big shark teeth poking out of the set? Scans today from the Sextream tour book. I scanned the second half of it waaaaaaay back in 2006 in my entry HERE. Today I finally got around to posting the first half.