urban legends
August 10th, 2007 (07:44 am)
current mood: good
Another newspaper bites the dust. I just learned that the Weekly World News is ending its print publication with the August 27th issue. The WWN didn't rely on spin, corporate opinion, or even actual facts. In that sense it was pure. It may have been the only thing that made waiting in the supermarket check-out line a guilty pleasure. Good-bye Batboy, I'll miss you. How will I ever know if the Loch Ness Monster finds true love, or where Elvis is living this year? I guess advice columnist Ed Anger finally has something to be angry about. WWN will still be available online, but it just isn't the same.

Today's my big summer vacation - all 24 hours of it! The work project hasn't really allowed for a lot of time off. And I've also totally lost track of all the B-T posts that have appeared in the last few days O_O!!! I hope to enjoy a pleasant summer day with my best friend, a nice lunch, some man-watching and maybe even some new shoes or a Drug Party (the Gackt kind) And then we'll start drinking and end up like ...
Schweinfest. I never got around to posting that look-back at Schweinfest this summer. I had the clippings and magazines ready to go and just lost track of time. Cause nothing says hot and sweaty like August. Or Schweinfest: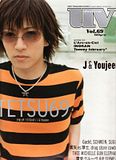 Scans today from UV
#69
from November 2001.