la vie en noire
September 27th, 2007 (10:14 pm)
current mood: tired
To enhance your enjoyment of the new Buck-Tick album, a recipe for BOSTON CREAM SODA. From the lovely staff at Noir, the best bar in the world.
1 part Stoli Vanil
2 parts ginger ale
Stir and serve over ice. Tastes just like the fountain treat, only with more happy. And happy is good, especially when you're being mocked by a freaking FORTUNE COOKIE.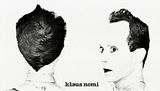 It's been impossible for me to listen to "Tenshi no Revolver" without thinking of THIS man. The extraordinary Klaus Nomi emigrated from Germany to Manhattan some time in the early 1970s. His shows were a mix of Berlin cabaret, science fiction, new wave and pure whimsy, and by the early 1980s he was the toast of New York. My old college boyfriend was very fond of his albums, and if not for him I may have never heard the voice of this countertenor. It was well worth tracking down a rental copy of "Urgh! A Music War," just to see Klaus' performance. The song was "Total Eclipse," and its always had a place in my iTunes rotation. I never post links to Youtube, because I don't like it. But I'll make this one exception - for Klaus. The weirdest thing about this performance is how bizarre his band looks by comparison.


Sadly, his career was much too short. He died in August 1983 at the age of 39. For more about this strange, endearing and talented man (not to mention superlative pastry chef), I highly recommend the documentary, "The Nomi Song."

And... On this day in Buck-Tick history in 1993 the five lads were still in the midst of their ambitious Darker than Darkness tour. They played 59 shows between May 20th and November 19th, the most extensive tour they have ever undertaken. I think someone recently requested some long-haired Atsushi photos, and I aim to please. Today, scans from the Darker than Darkness tour book.