This is NOT Greatest post
July 25th, 2006 (05:55 am)
current mood: aggravated
Creepy bug season is here. Last night I watched a foot-long millipede race across the carpet then under the bookcase. It's lurking there, watching me and waiting for the right time to scare the hell out of me.

Finally saw Pirates of the Caribbean over the weekend. I'm officially declaring a personal moritorium on special effects movies for the rest of the year. Between this, and that monstrous Superman movie I'm overwhelmed by impossible geography, gravity-defying action, and super-cool CGI that's makes actors obsolete and competent storytelling extinct. You can dazzle me however many ways you want, but it won't change the fact that this movie was nothing but an extended game of keep-a-way. Want to see a great fantasy/adventure? Check out Michael Powell's "The Thief of Bagdad(sic)." Because in 1940 movies could make the viewer gasp in wonder AND tell a story.

Now, on to the main attraction. I scanned the tourbook from Buck-Tick's NOT Greatest Tour. The only special effect required was the band itself: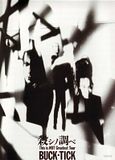 I love the black and white portraits against the empty backgrounds. Looking at these made me wonder if anyone's ever made a set of B-T paperdolls.
Apologies for the image bleed-through. Not that you can tell, but black paper was used behind them.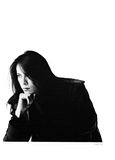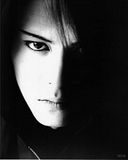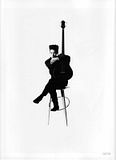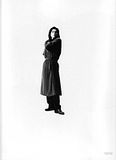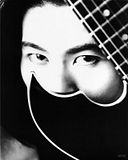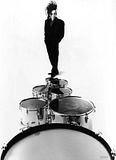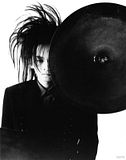 This is just a sample of the middle of the book. A series of psychedelic collag-y pics, die-cut across the center to create a kind of interactive flippy book.